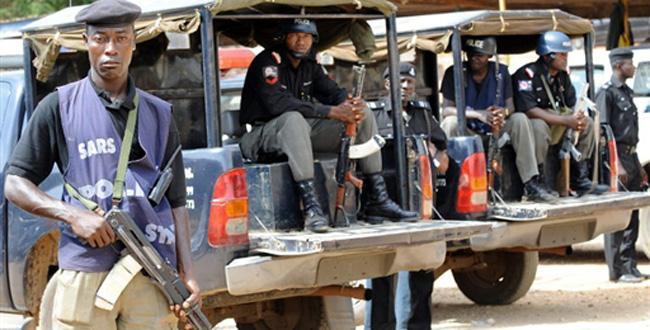 From Femi Folaranmi, Yenagoa.
The Bayelsa State Police Command has arrested three suspects in connection with the death of one Magam Elvis of the University of Uyo during elections for coordinators of the National Union of Nigerian Students (NANS)  held at the Federal University Otuoke over the weekend.
The police also confirmed that they have in their custody eight students including Bayelsa NANS President, Perewari Benjamin arrested for involvement in armed robbery and cultism.
State Commissioner of Police, Mr Asuquo Amba who paraded the suspects on Monday at the Command headquarters said it was disheartening those elections for NANS coordinators could turn bloody.
According to him a situation where students representing universities and higher institutions in the South- South zone degenerated to the use of fire arms leading to the death of a student and student involving themselves in robbery against innocent citizens calls for concern.
Amba expressed disappointment that in spite of the security deployed to the venue of the elections, firearm was still smuggled in which killed another student, while another one escaped.
He said five suspects Akpan Esuabanga Okon, Aaron Wisdom, Duff Gabriel Enyeneokpan, Etefia Otobong Harrison and Akwaoso Uwankmfon all of University of Uyo were arrested for attempting to kill  Tonye Samuel of University of Port Harcourt during NANS registration at FUO.
On Sunday, the Command deployed 11 patrol teams in conjunction with the Army/NSCDC/Otuoke Vigilantee/ University Internal security to FUO premises to provide security for the NANS national elections. The Vice- Chancellor, FUO, Prof Accra Seth Jaja addressed all the students to be law abiding and that only accredited delegates will proceed to the hall for the elections.
Later gunshot was heard from the crowd outside the hall. One Magam Elvis of University of Uyo died as a result of bullet wound injury. His body has been deposited at the mortuary for autopsy. Three suspects, Emmanuel Ebere, Obiakarije Innocent and Inbong Okon Ben have been arrested for the suspected murder¡± he said
Amba also disclosed that Benjamin as NANS Bayelsa President, with seven other suspects from Niger Delta University, namely Asari Enagob, Suoguai Bina, Ibe Ogbonna, Igbanibo Tari, Ekperi Kenneth, Kemefie Ebimene and Chukuma Lawrence from Imo State Polytechnic allegedly hijacked a commercial vehicle from Ayo Kehinde and allegedly robbed him of his Tecno phone and N50,000 cash.
He disclosed that two locally made single barrel pistol, two live ammunition, five.9mm live ammunition and two charms were recovered from the suspects.
Amba who assured that the suspects would be charged to court at the completion of investigations appealed to parents to discourage their wards from crime as the Police would ensure criminals face the full wrath of the law.
Comments
comments