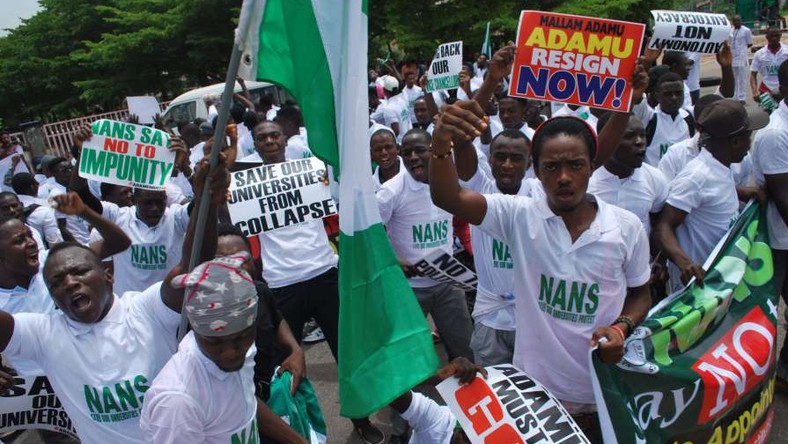 By Okonkwo Chukwunonso Augustus
Hi everyone I will like to start this article by asking a question that's on the mind of every Nigerian student at the moment. No doubt the questions are many but the one most important amongst all of them is "when will ASUU call off the strike?"
Oh yes that's the question every Nigerian students want answers to but who is willing to give answers?.
Many of us have been at home for over two months now because of this said, ASUU strike. Many students have turned into so many vices because the government cannot do what is important and do it immediately.



They are concerned about the forth coming elections, and thus anything that happens to the Nigerian student is not their business until the elections are over. The so called ASUU and NANS that claim they are representing the interest of the students are also not helping issues.
The NANS had a meeting with president Muhammadu buhari at the state house on Thursday 3rd January 2019 and the common Nigeria students were anxiously waiting to hear a good news that may lead to the lingering strike being called off. Little did we know that NANS and it's leadership were there for their own political gains and I can categorically state that the NANS does not have the interest of the common Nigerian students at heart. Imagine they went there and promised the president 20 million vote. "is that why we elected them to represent us ?"



When will Nigerians start getting things right?.
Our generation is already being destroyed because no body wants to take responsibility and do what is right.
It is also trending on the social media the kind of automobile being used by the NANS president, that shows that is another political organization people take advantage of to make money.
However ASUU met with INEC on Friday evening only to agree in the participation of the forth coming general elections, while the poor students suffer in their homes.
What I'm saying is that the games the federal goverment is playing with the Nigerian students are bad it also goes down to the fact that the government does not have the interest of the common Nigerian at heart.
All we have to do now is to pray for God's intervention because most of the students now don't read again, everyone is just frustrated or distracted with one thing or the other. I will answer some questions on the mind of the Nigerian students in my subsequent articles.
Comments
comments